New User Friendly and Rugged Pocket Thermometers
Product Announcement from Palmer Wahl Instrumentation Group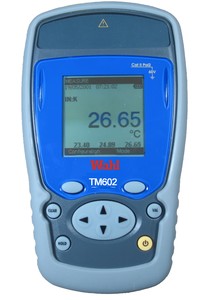 Asheville, NC – September 6, 2006 – Wahl Instruments Inc. announces three new affordable, rugged and user friendly, hand held thermometers for measuring, Thermocouples (Wahl TM602), RTD's (Wahl TM612) and both T/C and RTD's (Wahl TM630) in the harshest on-site, process environments.
The respective pocket thermometer models can measure with a high accuracy of 0.02% of reading and a very low temperature coefficient of 15 ppm/°C, 14 different thermocouple outputs and 12 different RTD types with a temperature coefficient of 10 ppm/°C.
All models use a graphical LCD with adjustable contrast and backlight making programming and reading easier. A database can be created to design curves for sensors, after calibration, in relationship with the corrections shown on a calibration report. Scaling allows for the correction of probe errors and is performed using up to 10 segments. Also, data can be recorded either manually on event or automatically with user- programmed frequency. Data with a time stamp can be displayed as a list or curves.
Standard accessories for all models include: anti-shock protective boot, 4 AA batteries, wrist strap and user manual on CD. Optional accessories include: rechargeable battery pack/charger, NIST certificate and carrying case. Optional Wahl thermocouple and RTD probes are also available.
http://www.palmerwahl.com/product_line.php?cat=3&catl=26&line=128
---