Rigid Dial Thermometer Mercury Actuated
Product Announcement from Palmer Wahl Instrumentation Group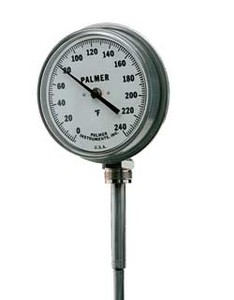 Heavy Molded Glass Cover
This unique cover maximizes the amount of light on the dial face enabling the user to read the dial face with ease in dimly lit areas. This cover, combined with a bezel ring and heavy, heat-resistant gasket, provides a weather-tight seal that prevents crystal fogging.
Easy to Read Dial
Every thermometer dial is constructed of heavy gauge aluminum with a low glare finish. High contrast black numerals, graduations, and pointer all contribute to minimize reading errors.
Liquid Actuated Systems
These temperature systems are filled with a non-toxic, odorless, organic, and non-flammable liquid up to 500°F. This liquid has proven to be an excellent substitute for Mercury.
Mercury Actuated Systems
For ranges over 500°F we place mercury into an all stainless steel, atomic-hydrogen welded system with direct drive coil, responding to the slightest change sensed by the mercury in the bulb. This provides the most accurate temperature reading possible.
Calibration
All Palmer Dial Thermometers are equipped for external calibration. The reset calibration screw on the back of the case is readily accessible and simple to use, This feature permits setting for zero calibration error at any desired temperature within the range of the thermometer.
This unique feature results in a temperature indicator that is extremely responsive to temperature changes and will maintain its accuracy for many years.
Interchangeability
All Model 35 and 50 Dial Thermometers have a .625" stem diameter with tapered sensing bulb interchangeable with a mercury-in-glass industrial thermometer type thermowell. A fast response is insured by the metal-to-metal contact of the tapered mercury filled bulb chamber and the internally tapered well.
Fully Adjustable All Angle Case with Rotatable Dial Face
Palmer 3-1/2" and 5" Rigid Stem Dials may be adjusted during installation and locked to provide the best reading angle.
Accuracy
Guaranteed to be accurate within one scale division. Calibration is traceable to the National Institute of Standards and Technology.
---