Wahl BREAKERS Overheat Indicator
Product Announcement from Palmer Wahl Instrumentation Group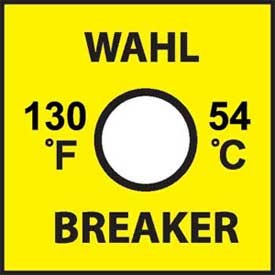 From Wahl Instruments, Inc.'s Temp-Plate line of temperature sensitive labels come Wahl Breakers, specialty labels designed to monitor electrical panels and breakers for overheat.
Wahl Breakers are self adhesive temperature recording labels that can be read at a glance. Each Wahl Breaker contains one sealed heat-sensitive element which changes chemical structure when exposed to heat exceeding their calibrated temperatures. The pearl gray indicator turns permanently and irreversibly black in less than one second and with ± 1% accuracy, traceable to NIST. The rated temperature of 130°F (50°C) is printed clearly on the label for reference.
The miniaturized size of Wahl Breakers permits installation on parts and in areas where other recording instruments prove impractical. Wahl Breakers are self-adhesive and easy to apply, and provide a continuous monitor for overheat that does not distort the temperature of the item being measured. Simply remove the protective backing apply to any clean, dry surface.
The laminated construction consists of a heat resistant mylar cover to encapsulate the temperature-sensitive chemical indicators ,and protect them from contamination from water, oil, and solvents.
Wahl Breakers are sold in packs of 30 Temperature Labels and 1 Self-Adhesive Panel Inspection Log.
Contact us to place your order or find out more .
---