Wahl® TC Series Pocket Calibrators
Product Announcement from Palmer Wahl Instrumentation Group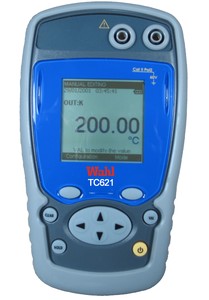 Well adapted for different process job procedures thanks to their ranges and specific function such as scaling and ramping.
User friendly and robust the Wahl® TC Series Pocket Calibrators have been designed to simplify temperature transmitters and probes maintenance and commissioning. They measure and simulate thermocouples or RTD's.
Features
High accuracy: 0.02% of reading
Very low temperature coefficient: 10 ppm/°C in thermocouples and 7 ppm/°C in resistance.
Accuracy is maintained even in harsh environmental conditions.
Measurement and Simulation of 14 thermocouples and 12 RTD types
Specifications
Dimensions, (without protection sheath): 6.18 x 3.35 x 1.77 inches (157 x 85 x 45mm)
Weight, 10.79 ounces (306 g)
IP Rating, IP 54 according to EN 60529
Environmental Conditions
Reference Conditions, 23°C + - 5°C, relative humidity: 45% to 75%
Nominal Operating Conditions, -10°C up to +50°C, relative humidity: 20% up to 80% non-condensing
Maximum Operating Conditions, -10°C up to +55°C, relative humidity: 10% up to 80% (70% at 55°C)
Maximum Storage Temperature, -30°C up to +60°C (without battery)
Electrical Security according to EN 61010
Electromagnetic capability of electrical equipment according to EN61326
Thermocouple Connection with miniature compensated connector
RTD connection 4 pin round connector or 4 banana plugs
USB connection for PC connection (software upgrade and application with DATACAL
Power Supply, 4 AA batteries. Optional rechargeable battery pack with charger is available.
Included Accessories, Protective Boot, 4 AA Batteries, User Manual on CD Rom, Wrist Strap, 2 Measurement Leads, NIST Calibration Certificate, and Carrying Case.
---