Paratherm HR™ Heat Transfer Fluid
Product Announcement from Paratherm — Heat Transfer Fluids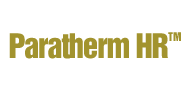 Paratherm HR™ Heat Transfer Fluid is an alkylated-aromatic based heat transfer fluid formulated for closed loop liquid phase heating to 650°F in fired heaters and 675°F in waste heat recovery and full convection heaters.
Applications Include...
Gas Processing
Chemical Processes
Waste Oil Recovery
Biodiesel Production
Plastic Processing
High Temperature Stability
Paratherm HR Heat Transfer Fluid offers greater thermal stability than competitive aromatic based fluids that cover similar temperature ranges. Testing (ASTM D6743) shows that, compared to its closest competitor, Paratherm HR Heat Transfer Fluid experiences 1/2 the amount of fluid degradation when maintained at 700°F for 500 hours. Less degradation means less maintenance and longer fluid life.
Low Temperature Startup
Centrifugal pumps are generally specified around the fluid viscosity at the desired operating temperature (usually less than 2 cps). Capacity falls off significantly above 300 cps. So the actual minimum start-up temperature of a fluid is where the viscosity curve crosses the 300 cps line. Paratherm HR Heat Transfer Fluid's lower cold start-up temperature of 13°F (-11°C) offers a significant advantage over other high temperature fluids.
Fluid Storage
Drums should be stored inside to prevent water from getting into the heat transfer fluid. If sealed drums must be left outdoors, they should be stored on their sides. While unopened totes are weatherproof, they should not be stacked if left outdoors. If the fluid is to be stored outside below its minimum pumpable temperature, the containers should be moved indoors to warm up before charging the fluid into the system.
Replacing Existing Fluid
In many cases, changing fluid involves a straightforward drain and fill. There are very few fluids that are so incompatible that 10-15% residue will affect the new Paratherm. If you have any questions, contact us.
Charging New Systems
Unless required for product quality reasons, new systems do not need to be cleaned before Paratherm is charged. The amount of chemical coatings, oils, and other manufacturing residues are usually not enough to affect the fluid life. All that is necessary is to install a Ystrainer with a minimum 60 mesh screen up stream of the pump to catch any metal or welding residue. The screen can be removed once the system has been cycled twice through its operating temperature.
Fluid Analysis
The fluid in new systems should be tested within 9 to 12 months of start-up. New fluid in existing systems should be tested within the first month of operation to establish a base line for future testing.
---