BRASS BALL VALVES
Product Announcement from Parker Hannifin / Fluid Connectors / Fluid System Connectors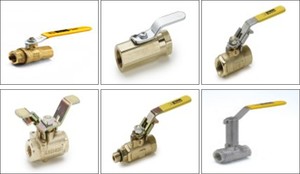 Highly inert PTFE seats and seals provide resistance to chemical corrosion. Parker also provides a blow-out proof stem, chrome plated brass ball and a specially designed handle enabling increased turning leverage for ease of opening and closing. Parker's ball valve can be readily identified assuring high quality engineering and reliability.
Applications
The industrial ball valve product line is intended for general purpose use. Please be aware that ball valves are intended for use in the fully open or closed positions. Depending on application conditions, throttling of the valve may result in premature seal failure and/or inability to turn the valve handle.
For use as fuel line shutoffs for gasoline and diesel powered over the highway, off highway, and construction equipment vehicles. Water and air service lines on capital equipment and plant design plumbing that require total shutoff capability.
Sizes
1/4" - 2"
Working Pressure
29in. Hg Vacuum to 600 PSI
(Vented, 250 PSI)
150 PSI saturated steam
Temperature Range
0º to +250ºF
CLICK HERE For the Full Catalog of Parker Ball Valves
---