Push-to-Connect Nickel Plated Pneumatic Fittings
Product Announcement from Parker Hannifin / Fluid Connectors / Fluid System Connectors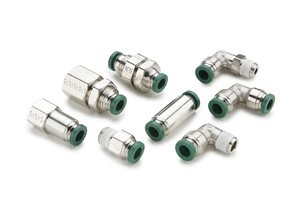 Parker Brass Products has set a new benchmark in holding power for push-to-connect pneumatic hose fittings. Far exceeding the industry standard of 200-250 PSI, the Prestolok Plus nickel plated brass fitting is reliable up to an incredible 300PSI.
These versatile fittings are available in a variety of configurations and are suitable for use with the following tube material:
Nylon
Polyethylene
Polypropylene
Polyurethane
While most push-to-connect fitting manufacturers will recommend 90 Durometer Shore A tubing or above, Parker fittings also work with 85 Durometer just as reliably. Male pipe threads come standard with a white acrylic sealant pre-applied. Swivels are featured on all male pipe threaded shapes and have been re-designed for ease of installation in tight places and for precise positioning.
Parker Brass Products also offers push-to-connect fittings to meet most any application and/or budget need.
And...as with all Parker Hannifin products, their global distribution network assures you of fast delivery and personalized service.
PARKER...Engineering Your Success!
---