Product Announcement from Parker Hannifin / Fluid Connectors / Parflex Division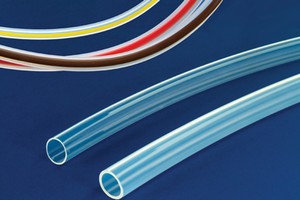 Oct. 2, 2013 Fort Worth, TX – Parker Hannifin, the mobile leader in control technology, offers Texfluor™ PTFE, the most chemical and corrosive resistant tubing available. PTFE, in many cases, is used to replace glass, rubber and stainless steel because of its corrosion resistance. It is extremely resistant to the most highly corrosive chemicals such as aqua regina, hydrofluoric acid and hydrogen peroxide, just to name a few. Only molten alkali metals, such as sodium or potassium, chlorine trifluoride and gaseous fluorine at elevated temperatures and pressures will attack PTFE chemically. In addition, there is no solution that will swell or dissolve PTFE at temperatures below 300°C/570°F. Only at temperatures above 327°C/620°F, PTFE's crystalline melting point, will some fluorinated lubricating oils swell PTFE.
Texfluor™ PTFE tubing is odorless, tasteless, non-wetting and non-leaching. Other advantages are PTFE's ease in cleaning, anti-stick properties, resistance to extreme heat and cold, and resistance to ultra violet rays. Vibration damping properties of PTFE are also excellent at both sonic and ultrasonic frequencies. Texfluor™ PTFE is available from the Parflex division in sizes .010" O.D. up to 4" O.D.
With annual sales of $13 billion in fiscal year 2013, Parker Hannifin is the world's leading diversified manufacturer of motion and control technologies and systems, providing precision-engineered solutions for a wide variety of mobile, industrial and aerospace markets. The company employs approximately 58,000 people in 49 countries around the world. Parker has increased its annual dividends paid to shareholders for 57 consecutive fiscal years, among the top five longest-running dividend-increase records in the S&P 500 index. For more information, visit the company's website at www.parker.com or its investor information website at www.phstock.com.
© 2013 Parker Hannifin Corporation - All Rights Reserved
You have successfully added from to your part list.
---