Diagnostic Testing Equipment
Product Announcement from Parker Hannifin / Fluid Connectors / Quick Coupling Division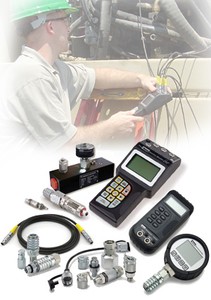 Parker's SensoControl products are valuable tools for diagnosing problems both before and after they occur. Today's hydraulic and pneumatic systems are continuously becoming more sophisticated. The ability to identify critical information for optimizing mobile equipment and industrial machine performance is a necessity.
ServiceJunior digital pressure gauges scan 100 times per second to read momentary pressure spikes commonly unseen by mechanical gauges.
Key Features of the ServiceJunior Digital Pressure Gauges include:
Available in four pressure ranges
Simple to operate 4 key menu
Min and max graphic display shows pressure peak
Measure PSI, bar, mPa, kPa with one gauge
Scans 100 times per second
Serviceman portable diagnostic meter scans for min and max readings 500 times per second to ensure that damaging system conditions are detected.
Key Features of the Serviceman Test Meters include:
Able to read pressure, flow, temperature, and rotational speed
Two inputs for data collection
Differential pressure display capability
Automatic sensor recognition
The Parker Service Master Easy is a multi-channel instrument that allows data to be viewed and recorded without user programming.
Key Features of the Parker Service Master Easy Test Meters include:
Inputs for up to 4 sensors
Record up to 1,000,000 data points
Able to read and record pressure, flow, temperature, and rotational speed
Automatic sensor recognition
Download recorded information to MS Excel with SensoWin software
SensoControl….ideal tools for collecting critical data!
Contact Parker today and one of their product experts will help you choose the diagnostic equipment that is right for your application.
Parker…ENGINEERING YOUR SUCCESS!
---