Multi-Input Diagnostic Test Meter
Product Announcement from Parker Hannifin / Fluid Connectors / Quick Coupling Division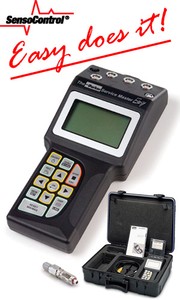 The Parker Service Master Easy is a user friendly diagnostic meter with 4 input channels for data collection. Fast measuring and analysis capability, ideal for use with both hydraulic and pneumatic systems.
With easy, intuitive operation, it is the perfect tool to capture diagnostic measurements at remote locations. Able to measure pressure, temperature, flow, and rotational speed simultaneously, the data can be gathered and stored on a PC for later analysis. The SCM-340 holds up to 1,000,000 data points in memory. Measurements can easily be transferred to your PC via SensoWin™ software.
As with all SensoControl equipment, the Parker Service Master Easy offers the latest in sensor recognition technology, eliminating the need for individual sensor setup.
Key Features of the Parker Service Master Easy Test Meters include:
Inputs for up to 4 sensors
Simultaneous multi-line display
User friendly interface
Record up to 1,000,000 data points
Able to measure and record pressure, flow, temperature, and rotational speed
Automatic sensor recognition
Download recorded information to MS Excel with SensoWin software
Online operation and data transfer
Battery monitoring
Available in convenient kits with pressure transducers to meet your needs.
The SensoControl Service Master Easy field kit is the ideal set of diagnostic tools for maintenance and service personnel in the industrial, mobile, and agricultural markets. These units help reduce downtime by recording the best preventative maintenance and diagnostic data available.
Kits include:
Carrying Case
Service Master Easy Meter
Transducers (Quantity of 2)
Transducer Cable 10' (Quantity of 2)
SensoWin Software
Computer Interface Cable
Operation Manual
Expand Your Kit With SensoControl Accessories:
Pressure Transducers: 5 different measurement ranges from vacuum to 8,700 PSI.
SensoControl Flow Sensors: Flow blocks offering the ability to measure pressure, temperature and flow from a single test point.
SCRPM Tachometer: For precision measurement of rotational speed.
Temperature Sensor: Use with Parker flow sensors or SCTA-1/4 port adapter for accurate system temperature readings ± 1.5%.
SensoWIN™ Software: Transfer data to a PC.*
5 pin to 5 pin cables: Connect flow sensors, transducers, and temperature probes to either the Serviceman or Parker Service Master Easy meters.
Voltage Adapter: For use with Auxiliary Sensors. Input 0-20 MA or 0-10 VDC
Test Port Couplings and Adapters: PD, PDP, EMA styles provide quick and easy system access
*(compatible with Windows 98 and newer operating systems)
Contact Parker today and one of their product experts will help you choose the diagnostic equipment that is right for your application.
Parker…ENGINEERING YOUR SUCCESS!
---