Thermoplastic Quick Couplings
Product Announcement from Parker Hannifin / Fluid Connectors / Quick Coupling Division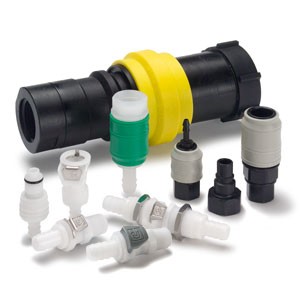 Thermoplastic Quick Couplings offer push-to-connect operation, high flow capability, light weight design, and excellent chemical compatibility to meet a broad range of applications.
PF Series couplings are non-spill couplings designed to use in closed system transfer and dispensing of chemicals with minimal environmental contamination. Available in body sizes 1/2" through 2".
Spectrum Series couplings are available valved or un-valved and in an optional panel-mount configuration. Available in body sizes 1/8" and 3/8".
PPM and PPL Series couplings offer the ease of push-to-connect operation with push-button release. These push-button quick couplings have an intuitive stainless steel latch that produces an audible "click" when a proper connection has been made. Available in 1/8 and 1/4 inch body sizes with male thread or hose barb ends. Valved or unvalved couplers and nipples can be used in any combination.
PPA Series couplings are push-to-connect with plastic latch push-button release. Available in 1/4 inch body size only and not interchangeable PPL series.
PPM, PPL and PPA Series couplings offer interchangeability with many of the competitive latch type coupling products that are currently available.
---