Actuators
Product Announcement from Parker Hannifin / Hydraulics Group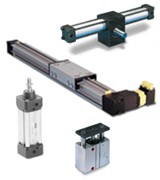 Parker offers an industry-leading range of linear and rotary actuators for pneumatic, electric and hydraulic systems. Parker actuators come in a wide range of construction types, ranging from compact light duty aluminum air actuators, motorized electric actuators, to heavy duty hydraulic designs.
Parker actuator products include:
Pneumatic linear actuators (rod-style and rodless)
Pneumatic cylinders
Pneumatic grippers
Pneumatic rotary actuators
Electric rotary actuators
Electric linear actuators (rod-style and rodless)
Industrial hydraulic cylinders
Mobile hydraulic cylinders
Hydraulic rotary actuators
Actuators for aerospace applications
Parker actuators are used in applications ranging from solar panel actuation and semiconductor fabrication, to heavy duty mobile equipment and factory automation.
Parker's broad range of actuator products:
Thousands of standard actuator configurations
Custom engineered actuators designed to your OEM application
Global manufacturing and service with local application support
Parker actuator features include:
Pneumatic and hydraulic rotary actuators in vane style and rack and pinion versions
Complete range of NFPA and ISO pneumatic linear actuators
Electromechanical actuators available with ball screw and belt drives with programmable motion
Complete range of NFPA and ISO hydraulic cylinder products
---