Extend Hydraulic Accumulator Systems Performance
Product Announcement from Parker Hannifin / Hydraulics Group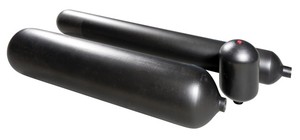 Parker Introduces One-Piece Formed Steel Auxiliary Gas Bottle; Designed for Hydraulic Accumulator Systems to Extend Accumulator Performance & Reduce Potential System Leak Paths.
Parker Hannifin Corporation, the global leader in motion and control technologies, announces the introduction of a one-piece formed steel auxiliary gas bottle design in standard sizes from 2.5 - to 50-gallons. The new design features a standard machined port in place of the traditional modular port assembly to provide a simple and reliable, gas-tight threaded connection, with reduced potential leak paths.
Specifically designed as a cost-effective alternative to the Bladder and Piston style gas bottles, the one-piece bottle design features a single standard machined No. 5 SAE O-ring port that customers can use to install a plug or gas valve. A standard No. 24 SAE threaded O-ring port is also provided to connect the gas bottle to the accumulator system. All bottles are ASME certified and "U" stamped.
Parker will offer the new design in the following sizes:
2.5-, 5-, 10-, 15- and 20-gallon gas bottles with 9-in. O.D.
25-, 30-, 40-, 45- and 50-gallon gas bottles with 14-in. O.D.
The traditional gas bottle equipped with the modular port assembly that offers various connection types such as NPT, BSPP and SAE flange, will continue to be available by customer request.
Auxiliary gas bottles are used for gas capacitance, in most cases in conjunction with hydraulic accumulators to extend functionality. By incorporating gas bottles, a smaller accumulator can be used, thereby reducing maintenance and cost of the accumulator system as a whole.
For additional information, contact an applications engineer at the Global Accumulator Division in Rockford, Ill., at 815.636.4100 or visit www.parker.com/accumulator.
---