IQAN Software Studios
Product Announcement from Parker Hannifin / Hydraulics Group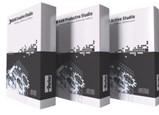 LAS VEGAS, March 11, 2008 – The IQAN Software Studios from Parker, the global leader in motion and control technologies, provides tools that cover all phases of a machine's life cycle, from development to product to after sales.
Parker understands that modern control systems involve the whole chain of a machine's life, known as the machine life cycle. This puts new demands on the performance of software tools at more than the traditional R&D level. Demands reach deeply into an OEM organization.
Contemporary OEM production departments want to automate, log and trace the machine delivery status; service departments want to handle warranties, offer proactive maintenance and provide machine upgrades; and machine owners want reliable machines with high productivity and low downtime. To meet all of these demands, IQAN Software Studios were designed to fulfill all of the needs of the machine life cycle.
Parker offers three different Software Studios: IQAN Creative Studio; IQAN Productive Studio; and IQAN Active Studio.
IQAN Creative Studio is a user- programmable software package designed for research and development (R&D) departments. It includes tools to streamline application development, simulation and initial setup:
IQANdesign
IQANsimulate
IQANrun
IQAN Productive Studio, a software package for the manufacturing and service departments, includes development tools for customization and automation of production of the maintenance processes:
IQANscript
IQANcustomize
IQANsimulate
IQANrun
IQAN Active Studio, a software package for service and production personnel, includes tools for machine diagnostics, setup and simulation:
Parker Hannifin Hydraulic Valve Division offers a single source for mobile hydraulic valves. Our foundation of excellence is built on an extensive product line and in-depth knowledge of our markets, including construction, aerial work platform, refuse, forestry, material handling, truck, snow and ice, mining and agriculture. We specialize in innovation. Our engineers and field-sales teams have years of experience analyzing, evaluating, and building mobile solutions using our comprehensive line of hydraulic valves and other components.
---