New Safety Controller Cuts Development Time & Cost
Product Announcement from Parker Hannifin / Hydraulics Group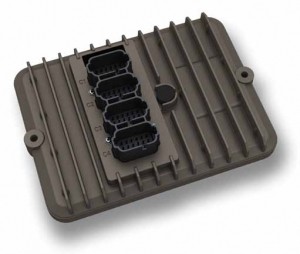 Innovative Mobile Systems Safety Contoller Advancement from Parker Hannifin.
New safety controller from Parker cuts development time and cost for mobile systems.
An innovative new programmable hydraulics controller has been launched by Parker Hannifin, the global leader in motion and control technologies, for use by OEMs and system integrators for the development of mobile and off-highway equipment. Designated IQAN-MC3, and forming part of Parker's IQAN family of motion and control products, the new device enables both safety and operational functions to be controlled from a single module; this allows system design and build times and costs to be cut, while improving machine performance, safety and productivity.
Quick Links:

The launch of the new controller coincides with growing demand from manufacturers of mobile and off-highway equipment for components and software, used in the production and development of safety systems, to offer improved performance and be certified to accepted functional safety standards, such as EN ISO 13849-1 or IEC 61508.
The new IQAN-MC3 module, used in conjunction with Parker's dedicated IQAN Studio Software Tools, therefore allows both operational and safety functions to be programmed, controlled and monitored through a single controller. This helps machine builders minimise the number of components required and thus reduce overall system complexity and cost.

To make this possible, IQAN-MC3 is designed to IEC 61508 (certification pending) and effectively enables the operation and performance level of all safety functions to be proven as part of a SIL2 (Safety Integrity Level) methodology, or to be used as part of a PLd subsystem within EN ISO 138489-1. Learn More...

Learn more about Parker Hannifin Hydraulic Cotrol Products:
---