POSITION INDICATING SWITCHES
Product Announcement from Parker Hannifin / Hydraulics Group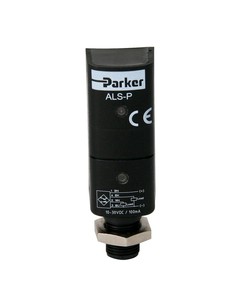 DES PLAINES, IL, October 1, 2008 – Parker, the global leader in motion and control technologies, introduces the new position-indicating solid state, tie-rod-mounted limit switch for hydraulic cylinders. The position-indicating switch detects a polarity change in a standard steel tube as the magnetic piston moves through the cylinder. Two LEDs (yellow and red) indicate that the magnet is inside or outside of the switch target zone. It is designed for use on 1.50 through 4.00 inch bore Series 2H, 3L and 2A cylinders.
Available in both PNP and NPN outputs, the tie-rod-mounted switch provides machine builders distinct advantages over other limit switch mounting types. The position-indicating switches do not require special tube material, allowing OEMs to avoid the high costs related to stainless steel tubing. Second, these switches provide multiple position sensing because they can be easily located anywhere along the cylinder to signal end-of-stroke or mid-stroke locations. The number of switches that can be used is limited only by available tie rod space. Their compact profile eases installation and makes the switches less prone to mechanical damage. Savings can be realized since the material and labor costs that are associated with the expense of special machine mounted brackets for other types of switches can be avoided.
Additionally, the tie-rod-mounted position-indicating switch maintains pressure envelope integrity with a non-intrusive design to reduce the possibility of fluid leakage unlike head and cap mounted switches.
With annual sales exceeding $12 billion, Parker Hannifin is the world's leading diversified manufacturer of motion and control technologies and systems, providing precision-engineered solutions for a wide variety of commercial, mobile, industrial and aerospace markets. The company employs more than 61,000 people in 48 countries around the world. Parker has increased its annual dividends paid to shareholders for 52 consecutive years, among the top five longest-running dividend-increase records in the S&P 500 index. For more information, visit the company's web site at http://www.parker.com, or its investor information site at http://www.phstock.com.
---