Self-sealing Septa for Medical Vials
Product Announcement from Parker Hannifin / Seal / TechSeal Division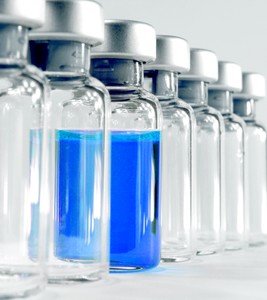 Medical vials that store fluids often need to be accessed multiple times by a syringe and therefore need to be leak free after piercing. As a result, the septa on the vial caps have to maintain sealability even after several punctures in order to prevent contamination and leakage.
Parker's TechSeal Division offers extruded self-sealing septa which exhibit the ability to reseal themselves after multiple punctures by a medical syringe or needle. These septa are manufactured from two of TechSeal's materials with resealing properties: silicone S7577 and thermoplastic elastomer (TPE) JA571. These materials have passed the USP <381> test method and are FDA white listed and USP Class VI, making them ideal compounds for medical applications.
The USP <381> test method - Elastomeric Closures for Injections - provides guidelines for testing the functionality of elastomeric septa in terms of penetrability, fragmentation, and self-sealing capacity. Based on the test results, TechSeal's septa made from S7577 and JA 571 are easily penetrable by medical needles, highly resistant to coring or fragmentation, and resealable after several punctures.
TechSeal Division's septa can be extruded and precision cut to custom sizes to fit customers' unique applications. Extruded and cut septa have no associated tooling charges, providing a more cost effective sealing solution than a traditional molding process does. TechSeal Division's manufacturing method yields flash-free products and allows for greater design flexibility. TechSeal also offers custom color matching options and design assistance from our team of Application Engineers.
For more information, please view the Extruded Resealable Septa bulletin here or contact TechSeal Division at (864) 573-7332.
You have successfully added from to your part list.
---