New Directional Couplers
Product Announcement from Pasternack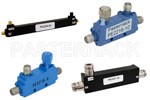 Pasternack Enterprises Announces New Directional Couplers
New Directional Couplers from Pasternack Provide Industry Leading Quantity with Same-Day Ship Availability
The new broadband directional couplers from Pasternack Enterprises, Inc. support frequencies from 800 to 2,500 MHz. While covering all the most popular communication bands in one unit, Pasternack directional couplers offer the bandwidth, high directivity and higher power that designers need for their most demanding applications.
Pasternack broadband directional couplers are available in N-type or SMA Jack (Female) connectors to support more field applications. These new directional couplers are stocked at the factory to support same-day shipment, with real-time pricing and inventory stock available online at www.pasternack.com. Pricing is as low as $321 (US) for either N-type or SMA connector terminations. For additional support, contact Pasternack toll-free by phone at (866) 727-8376 or by email at sales@pasternack.com.
About Pasternack Enterprises, Inc.
A leader in RF cables, adapters and connectors since 1972, Pasternack Enterprises is an ISO 9001:2008 certified manufacturer and international supplier of one of the largest inventories of standard and same-day custom made products. Pasternack is committed to same-day build and ship of common and obscure cables, adapters, connectors and accessories for use in fiber optic, microwave, millimeter wave, radio frequency and other uses.
---