New RF Bandpass Filters
Product Announcement from Pasternack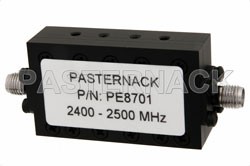 Pasternack Enterprises introduces its new line of Bandpass filters. The Bandpass filters from Pasternack are available in a wide range of frequencies. With frequency ranges from 824 MHz to 5.9 GHz, Bandpass filters from Pasternack provide a solution for most RF Bandpass needs.
This series of new Bandpass filter products are designed for improved performance. The Pasternack Bandpass filters use the superior Combline design. This passive Bandpass comb filter design results in low insertion loss performance.
RF Bandpass filters from Pasternack can be used in a wide variety of applications. AWS, Bluetooth, GPS, GSM, ISM, Microwave, PCS, RFID, UMTS, WIMAX, ZigBee and other applications will benefit from a Pasternack RF Bandpass filter. Medical, microwave, seismology and sonar are just some of the many industries Bandpass RF filters are used.
Pasternack Bandpass filters are available now for same-day shipment from their United States facility on the West Coast in Southern California. Real-time pricing and inventory quantities of all Pasternack products can be found at www.pasternack.com. For additional information, contact Pasternack by phone toll-free at (866) 727-8376 or by email at sales@pasternack.com.
---