New SMA Attenuator Series
Product Announcement from Pasternack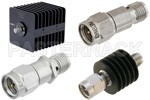 Pasternack Enterprises Announces New SMA Attenuator Series
New SMA Attenuator Series Expands the Pasternack RF Microwave Product Line
Pasternack Enterprises, Inc. has expanded their wide selection of RF products with the introduction of their new SMA attenuator series of fixed attenuators. The newest RF attenuator offerings from Pasternack are based on SMA connectors. This coaxial SMA attenuator series from Pasternack is for 2 Watt and DC ~ 6 GHz operation.
Pasternack's new PE7162 series of fixed SMA attenuators offer higher frequency operation encased in a passivated stainless-steel casing for higher reliability. This series of SMA attenuators have attenuation ranging from 1~40dB. Typical accuracy of these fixed attenuators is ±0.6dB for 1~10dB / ±0.75dB for 12~20dB / ±1.5dB for 30~40dB models and VSWR of 1.2:1 maximum.
Pasternack fixed SMA attenuator series are ideal for PCS and WLAN applications, especially for upper UNII band-rated devices. PE7162 is the part number series assigned to the newest coaxial SMA attenuator group from Pasternack. Pasternack's PE7162 series microwave attenuators are stocked at the factory to support same-day shipment.
Pricing for the latest SMA attenuators is as low as $59.95 (US) in single piece quantities. Use the Pasternack online fixed attenuator selection guide for complete specifications and to buy online at www.pasternack.com. For additional attenuator support, contact Pasternack toll-free by phone at (866) 727-8376 or by email at sales@pasternack.com.
About Pasternack Enterprises, Inc.
A leader in RF cables, adapters and connectors since 1972, Pasternack Enterprises is an ISO 9001:2008 certified manufacturer and international supplier of one of the largest inventories of standard and same-day custom made products. Pasternack is committed to same-day build and ship of common and obscure cables, adapters, connectors and accessories for use in fiber optic, microwave, millimeter wave, radio frequency and other uses.
---