Ziniloy HD™ Alkaline Zinc Nickel
Product Announcement from Pavco, Inc.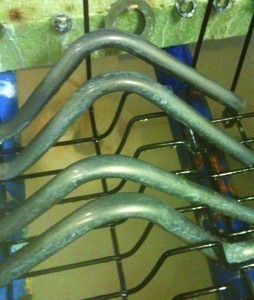 Pavco's® Ziniloy HD™ delivers the most ductile zinc nickel deposit available. Meeting the demands of industries that undergo post-plate fabrication, Ziniloy HD™ achieves this without degradation of the deposit. Combined with numerous operating advantages, Ziniloy HD™ is the preferred alloy process for post-plate fabrication.
In the photo shown, these tubes were in an active independent salt spray chamber in excess of 950 hours. As seen, minimal white rust is present with no red rust at that exact point in time.
Ziniloy HD™:
Produces semi-bright zinc nickel alloy deposit with exceptional ductility.
Ideal for parts requiring postplate fabrication.
Exceptional corrosion resistance achieving over 1,200 hours to red rust.
Nickel alloy range 10-16%.
Suitable for either rack or barrel plating.
Passivated deposits retain excellent corrosion resistance, even after 24 hours of a 250°F (120°C) temper.
---