Inflatable Seals...Easy to Install
Product Announcement from Pawling Engineered Products, Inc.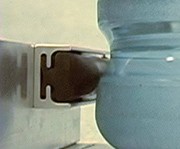 Pawling Engineered Products - Pneuma-Cel® is a self-contained pneumatic bladder, housed in its own standard-sized aluminum frame. Easy to install. These inflatable bladders can handle irregularly shaped products in a variety of applications, such as braking on a conveyor belt, actuating switches or holding pieces for cutting. See the video demonstration of Pneuma-Cel bladders in action.
Pneuma-Cel inflatable bladder clamps provide conformal clamping for delicate or irregularly shaped objects and are designed for long life.
Life-tested to over 500,000 cycles at room temperature
Bladder replacement is simple - slide out, slide in
Compact size for easy redundant installation.
In 6" (152.4mm), 9" (228.6mm) and 12" (304.8mm) lengths, the standard Pneuma-Cel provides a 3/8" range of motion with a variable force up to 200 lbs. Maximum operating pressures for the standard bladder are 25 psi (1.7 bar). See technical info.
Recently, Pawling has introduced a NEW, reinforced version. Available in 8" (203.2mm) lengths, the reinforced Pneuma-Cel has been cycle tested over 2,000,000 times under standard gap and pressure conditions with no failures. The reinforced Pneuma-Cel can also operate to a maximum of 35 psi (2.38 bar), thereby generating higher forces over a smaller footprint. See technical info.
Buying Pneuma-Cel is easy, too:
• Standard-stock item
• Pricing is set
• Shipment within three days of order
Literally hundreds of applications have been waiting for Pneuma-Cel™. E mail us with your inquiries
---