UltiSep - Aerosol Removal from Gas Streams
Product Announcement from Pentair Oil & Gas Separations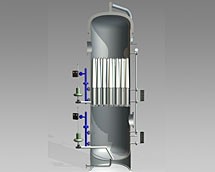 UltiSep sets a new standard in high-performance gas/liquid separation. UltiSep utilizes Pentair's proprietary microfiber media technology and innovative APEX element design. These technologies are applied for high efficiency bulk liquid and aerosol removal from process streams. APEX technology affords the user an unprecedented ability to reduce liquid carryover and pressure drop while providing smaller footprints and lower capital costs. UltiSep housing configurations are designed via the use of Computational Fluid Dynamics (CFD) and other proprietary computer models that ensure accurate and complimentary design in conjunction with APEX. The implementation of these technologies offers the ideal business model for value added and optimized systems.
UltiSep offers the ability to maximize operational profitability by minimizing entrained liquids in process gas streams. Eliminating liquid and solid carry-over minimizes process upsets and the corresponding issues associated with them, such as; product loss, fluid make-up, off-spec products, contamination in feed streams entering processes, emulsions, foaming, fouling, corrosion and mechanical wear.
UltiSep allows the removal of liquids ranging from bulk fluids to entrained droplets as small as a viral particle, improving operational efficiency and profitability.
+1.936.788.1000
---