Produced Water Management with HRT
Product Announcement from Pentair Oil & Gas Separations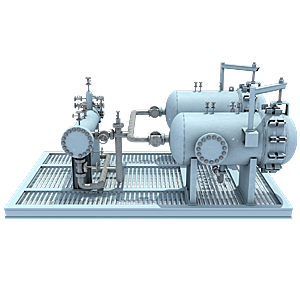 The oil and gas industry is taking a renewed approach to tackling its water management challenges. Produced water streams must often be treated prior to disposal, reinjection, or reuse. These streams, found at onshore drilling sites, offshore production platforms and salt water disposal wells, are generally high in salt content, and typically, have required large filter systems comprised of exotic metals (viz., super duplex stainless steel). The capital and operating costs associated with most conventional treatment systems can be very high.
The need for economic management of produced water is critical.
HRT affords proven solids controls and hydrocarbon recovery performance while eliminating the need for expensive excess processing, chemical additives, and storage tank capacity. With hydrocarbon recovery efficiencies of 99.98%, HRT produces a sellable product, balancing or even outweighing operating costs and capital investment.
Clients using HRT on produced water systems have experienced operational, environmental and economic benefits, including:
Operational flexibility
Reduction of lost energy
Savings on chemical additives
Lower maintenance costs associated with fouling
Elimination of excursions
Why is HRT better than conventional solutions?
Most produced water systems experience either periodic or continuous hydrocarbon and/or solids upsets, leading to:
diminished capacity
loss of valuable product
damage to disposal wells and other equipment
harm to producing formations
and in extreme cases, shut down due to environmental emissions.
Residence tanks are ineffective at separating emulsified hydrocarbon from aqueous streams, allowing essentially all dispersed hydrocarbon to pass through.
Likewise, hydrocyclones, walnut shell filters, or induced gas/dissolved air flotation (IGF or DAF) are limited to applications with less than 200-300 ppm oil and under the best of circumstances are typically 90% - 95% effective.
HRT was developed to remove solids as fine as ½ micron to 99.98% efficiency if desired. It will intercept and recover even stable emulsified hydrocarbons, allowing essentially zero free hydrocarbons to pass through. Consequently, HRT provides vast improvements in the treated water quality.
HRT's robust design is scalable and modular for both new capital projects as well as placement in existing operating units. Each system is designed to address the specific operational constraints of the application.
HRT assists in maintaining a balanced system which provides:
higher process reliability
energy efficiency
reduced potential for emissions
reduced product loss
significantly reduced system maintenance
Call 1.936.788.1000 to speak to someone today about your produced water system.
---