Product Announcement from Percival Scientific, Inc.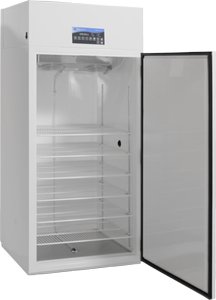 Research scientists around the world depend on Percival Scientific's reliable incubators for many different types of applications - from bacterial culturing to plant seedling and insect rearing to B.O.D. determinations.

All of our incubators utilize:
- Continuously-running condensing units which ensure precise temperature control by alternately cycling refrigerant and hot gas to the coil. This also adds years to the life of your chamber.
- Sturdy 18 and 22-gauge steel interiors and exteriors built to last much longer than less sturdy aluminum options.
Greater temperature uniformity across multiple points of each shelf.
- IntellusUltra Controller which allows you to control temperature, humidity (optional), CO2 (optional) and lighting.
- IntellusUltra Web Server (optional) lets you program and monitor your incubator from your desk, laptop or phone.

Percival Scientific is proud to offer as standard what others may offer as optional. These features include:
- IntellusUltra and IntellusUltra Web Server- An environmental control system offering Ethernet and Internet capabilities.
- Specialty lighting - including our optional patented lamp bank system.
- Optional barriered or adjustable lamp banks - which are available to meet your needs.
- Sturdy 18- and 22-gauge steel interiors and exteriors - offering solid products built to last, versus lower-quality aluminum options.
- Welded seams - which enhance product quality, as compared to pop-riveted seams.
- An environmentally friendly powder coat finish - which makes our products more durable, attractive, scratch-resistant and long-lasting.
- Magnetic door gaskets - ensuring a tight seal to each chamber, eliminating worries about your research being contaminated by outside elements.
- The highest quality solenoid valve - available on the market, a more reliable and cost-effective alternative to proportional valves.
- Continuous-running condensing units - adding years to the life of your chamber.
- Proven experience and expertise with dimmable ballasts, alone or in combination with light sensors for precise irradiance control.
- Humidification - various options available when meticulous control of humidity is very important.
You have successfully added from to your part list.
---