Product Announcement from Peterson Filters Corporation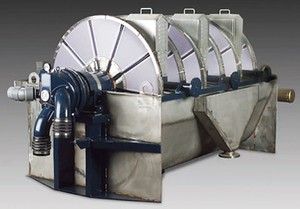 Peterson Filters Corporation - has introduced a new "Pocket" size vacuum disc filter for dewatering fines in a variety of process streams. Two of the new machines are being used to dewater silicate minerals and provide up to five percent lower cake moisture than the two centrifuge machines that they replaced.

The new filters have a disc diameter of 4'-6" and a disc area of 25 ft2. There are six discs per machine providing 150 ft2 of filter area. Each machine processes 10 TPH of silicate mineral for a total production of 20 TPH.

The small disc diameter provides an economical dewatering solution for a variety of smaller slurry flows since the filters can be configured with 1 disc for 25 ft2 and up to 20 discs for 500 ft2. The 1 or 2 disc versions are ideally suited for pilot plant operations.

A number of innovations are used on the new machines. The filter sectors are all stainless steel fitted plastic sectors with patented drainage design. They also include a major improvement of the patented Peterson "Turn Flow" disc design and cake discharge from each disc is facilitated with a new "precision" cake deflector design which, along with Syncro Blow air pulse, assists with complete discharge of very thin filter cakes.

The new filter sectors are specifically designed for synthetic filter media but can also be fitted with a number of different filter media including stainless steel wire cloth.

The machines employ a smaller version of the popular Peterson structural steel design center shaft and employ "all mild steel" automatic filters valves which will provide very long life and that can also be provided in stainless steel for corrosive applications. Center shaft journal bearing and bridge face employ new long life synthetic bearings that require very little lubrication maintenance.

With a narrow foot print, the new machines are readily adaptable to platform mounting with various vacuum pumps and other accessories and are a perfect fit for portable and temporary operations such as small pond reclamation projects in the coal industry.
You have successfully added from to your part list.
---