Degrade Hydrocarbons in Petroleum & Chemicals
Product Announcement from Phase III, Inc.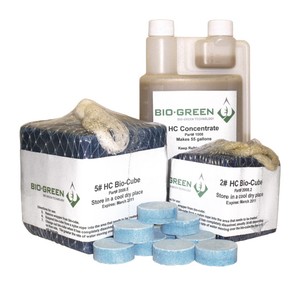 Phase III's Bio-Green Technology line of Petroleum and Chemical products provides a range of biological solutions for cleaning and digesting waste contaminants found in your environment.
Applications include treatment of industrial waste and waste waters, crude oil spills, chemical and solvent leaks, fuel oil leaks and creosote contamination. We are dedicated to providing our customers with innovative, cost-effective bio-treatment solutions.
Hydrocarbons-Grease-Crude-Petroleum Products
Bio-Green HC is a multi-cultured product specially formulated to bioremediate all forms of crude or modified petroleum products. Bio-Green HC can be used to remediate oil contamination in soils and to decompose oil buildup in oil water separators. This product is available in liquid, granular, solid and tab forms.
*Available in: Granular form, Liquid, Bio-cubes, Bio-tabs

Chlorinated Solvents-Hydrocarbons-Foams-Surfactants-Detergents and Ethoxylated Hydrocarbons
Bio-Green CL is a multi-cultured product specially formulated to bioremediate all types of chlorinated solvents, hydrocarbons, foams, surfactants, detergents and ethoxylated hydrocarbons. Bio-Green CL is ideal for contaminations in petro-chemical, steel-making and specialty chemical plants. This product is available in liquid form.
Available in: Granular form, Liquid
Products are manufactured on a demand type basis. More popular items may be in stock

Play Degrade Hydrocarbons in Petroleum & Chemicals Video
---