Reduce your absorbent liability & costs: OilSponge
Product Announcement from Phase III, Inc.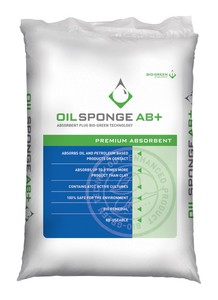 Ranked #1 by the Army Corp of Engineers - Oil Sponge is the fastest way to Respond, Recover, Remediate and Reduce your spill related costs.
Having the same great absorbing power as our AB product, Oil Sponge AB+ features Bio·Green Technology that is a proprietary blend of Class 1, safety certified active cultures. Oil Sponge AB+ will assist in converting most absorbed oil based liquids into safe carbon-dioxide and water. Fast and easy to use, Oil Sponge AB+ will effectively reduce your waste stream issues and disposal costs.
· Manufactured from recycled cellulose fiber, a renewable resource
· Cellulose fiber construction absorbs up to 8 times more than clay type products reducing disposal costs
· Contains Class 1, Safety Certified microbial and 100% organic nutrient package to help degrade petroleum based spills
· Certified 100% Bio-Organic material makes it safe for the environment
· Safe around plants and livestock
· Will not leach into the environment up to saturation
· Reduces volatility of flammable spills
· Ideal for MRO response teams

Play Reduce your absorbent liability & costs: OilSponge Video
---