Stop paying high prices for "rental' shop towels
Product Announcement from Phase III, Inc.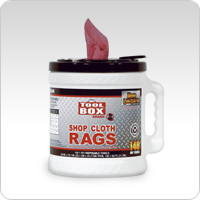 TOOLBOX Red Shop Rags offer the shop owner with a cost savings solution to rental rags. Quit paying for damaged, lost or destroyed rags with these tough disposable rags. They're as strong as cloth and can save you as much as $.05 per towel. If you're looking to better manage your shop expenses, look into our TOOLBOX Red Shop Rags.
Big Grip Bucket 2/case
Product Number: 70140

-Ideal for heavy-duty wiping applications
-Absorbs up to 400% more than most rental rags
-Patented Big Grip® Bucket is perfect for jobs outside or wet work sites as it is designed to keep your towels clean and dry until they are needed
-After all of the shop cloth rags have been used in the Big Grip® Bucket refill with item # 70150 (TOOLBOX® Red Refill) and reuse bucket

TOOLBOX® Shop Cloth Rags are made with 25% recycled fibers
---