Wastewater Treatment: treat / decompose biomass
Product Announcement from Phase III, Inc.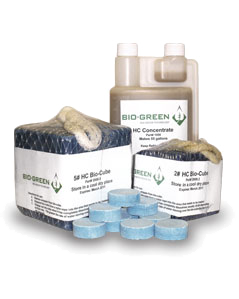 Waste Treatment: Bio-Green WT is a multi-cultured product specially formulated to treat and decompose biomass and all forms of waste nutrients found in wastewater treatment lagoons and holding tanks. Use of Bio-Green WT in wastewater treatment facilities greatly reduces the need for mechanical dredging and treatments with toxic chemicals.

Phase III's Bio-Green Technology line of Industrial and Municipal products provides a range of biological solutions for cleaning and digesting waste contaminants found in your environment.
Applications include treatment of industrial waste and waste waters, dairy, food production, Paper mills contamination. We are dedicated to providing our customers with innovative, cost-effective bio-treatment solutions.
Our line of products are available in a variety of application forms including super-concentrated liquid, powder, time-released.
Contact us for specific sizes, quantities and application forms. Products are manufactured on a demand type basis. More popular items may be in stock.
---