852nm DBR Laser Diode
Product Announcement from Photodigm, Inc.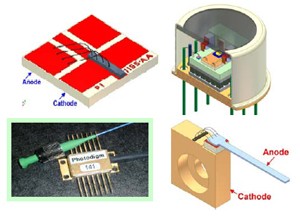 High-Power Single-Frequency Laser Diode
PH852DBR 852nm Series
Technology
DBR Single-Frequency Laser Chip
InGaAs QW Active Layer
Epi designed for high reliability
Features
Available in several package styles
Pulsed operation for spectral stability at short pulse lengths
High power for CW applications
High Slope Efficiency
Description
The PH852DBR Series of high-power edge-emitting lasers are based on Photodigm's advanced single frequency laser technology. It provides a diffraction limited, single lateral and longitudinal mode beam. Facets
are passivated for high-power reliability. Devices used in atomic spectroscopy for cesium based applications.
---