DBR Laser Superior Performance and Reliability
Product Announcement from Photodigm, Inc.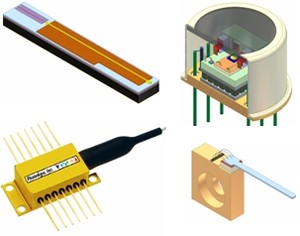 High-Power, Spectroscopy-Certified Laser Diodes For Precision Applications
The Photodigm family of high-power edge-emitting Distributed Bragg Reflector (DBR) lasers is based on Photodigm's proprietary architecture. The DBR laser diode is uniquely suited for applications requiring high-power single-frequency performance within a well-defined operating range. Compared to the competing DFB laser, the DBR laser architecture offers superior performance and reliability for applications requiring deterministic wavelength behavior.
Atom optics
atom trapping
laser cooling
cold atom experiments
Bose-Einstein condensates (BEC)
saturated absorption spectroscopy
magneto-optical traps (MOT)
coherent population trapping
Non-linear optics and frequency conversion
second harmonic generation (SHG)
difference frequency generation (DFG)
terahertz generation
frequency doubling
green lasers
RGB lasers
Tunable laser diode
Handheld and vehicle mounted instruments
Raman spectrometers
Terahertz spectrometers
LIDAR
Monolithic replacements for volume Bragg gratings (VBG)
Magnetometery, precision inertial guidance, navigation,
Atomic clocks
---