Product Announcement from Photron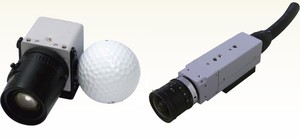 New sub-miniature camera head option for Photron Fastcam MC2 high speed camera system. Complimenting the 35mm (1.38")H x 35mm (1.38")W x 33.3 mm (1.31")D cubed camera heads, the new slimline pencil camera heads (23mm (0.91")H x 23.2mm (0.91")W x 77.1mm (3.04")D connect to the remote processor seven meters (23') away with a Limo connector close to the camera head.
Both camera head types (cubed and pencil) are also used on the high-G Fastcam MH4 high speed system, and so are engineered to withstand extreme shock and vibration while their small size makes them perfect for positioning anywhere on a production line to record that irritatingly intermittent line jam - quickly paying for the initial investment as they save you thousands through no longer loosing damaged or rejected product.
Available in both color or monochrome models, the Fastcam MC2 records at full resolution as fast as 2,000 frames per seconds (fps) and at reduced resolution to 10,000 fps. Digital memory enables the system to be put in to the record mode, say at 1,000 fps, and then left, unattended, for days at a time while it awaits the trigger signal caused by your event or jam. Once this alarm/trigger is received, the MC2 saves the proceeding four or eight seconds (depending on memory option selected) of high speed action before automatically downloading them to a remote computer, potentially thousands of miles away, for review, analysis, email, etc.
Call Photron today for more information for for a free demonstration at your facility
You have successfully added from to your part list.
---