Ultrasonic PiezoMotor Piezo Motor Stage
Product Announcement from PI (Physik Instrumente) L.P.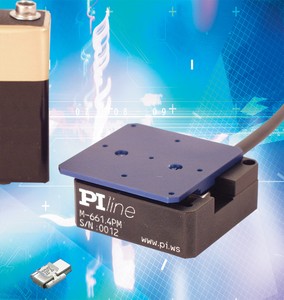 The M-663 Piline™ miniature piezo motor stage is the smallest closed-loop ultrasonic linear piezo-motor-driven translation stage with integrated high-precision linear encoder (100 nanometer resolution). It combines the advantages of piezo-motor drives with PI precision micro mechanics.
PI offers mini piezo-motor-driven stages as small as ~9x6x2 mm.
Other Piezo Motors / Stages:

For ultra-high resolution (nanometer and picometer range), PI offers PiezoWalk® type linear motors. These non-friction type piezomotors also provide much higher forces up to 600 N.
More on PiezoWalk® Piezomotors:
Ultrasonic Piezo Drives-How do they work?
PI linear ultrasonic drives consist of a piezoelectric oscillator made from a rectangular piezoelectric plate upon which are mounted one, two or more frictional elements. Due to electrical excitation of the actuator, each friction tip installed on it moves along an elliptical trajectory, transmitting pushing forces to a friction bar on the moving portion of the translation stage. The pushing force exerted by the actuator comes basically from the energy of the longitudinal wave, i.e. in the actuator shown, the longitudinal wave is the pushing wave. The bending wave energy in the actuator is used basically for switching the longitudinal motion at regular intervals by pressing the frictional elements against the frictional trunk. The bending wave force regulates the maximal available frictional force between friction tip or tips and the frictional trunk on the moved element, i.e. the bending wave has an engage/disengage function.
Advantages of PIline™ Piezo Linear Motors & Linear Slide Systems and Linear Actuators
PIline™ Linear Piezo Motors are based on a novel solid-state ultrasonic piezoceramic drive. They are lightweight, low-profile and provide a number of features and advantages not available with conventional magnetic motors, such as negligible EMI, ultra-fast response, auto-locking, backlash-free motion and excellent power-to-weight ratio.
More on the M-663 Piezo Motor Stage:
P-653: PCB Mounted 8 mm Piezo Motor:
Piezo Motor White Papers: http://www.piezo-motor.net
Piezo Motor Catalogs:
Ultrasonic Piezo Motors (Faster)
Stepping Piezo Motors (Higher Precision):
Flexure Guided PiezoStage Overview:
You have successfully added from to your part list.
---