Product Announcement from Piezosystem Jena, Inc.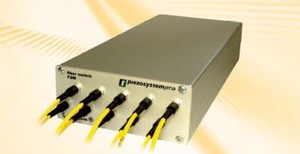 Many applications in optical measurement systems, or data communication networks, require distribution and modulation of light guided in optical fibers. The FSM-1x3, FSM-1x4, FSM-1x6, and FSM-1x9 series multimode optical fiber switches were developed mainly for applications in the field of spectroscopy and metrology. The signal of one input fiber can be switched to 3 (FSM-1x3) or up to 81 (FSM-1x81) output channels.
Based on the cascaded mechanical switching principle, any number of output channels can be provided.
The unique switching principles are based on piezoelectric elements, providing a fast switching frequency of up to 500 Hz. The system is very compact, with insertion losses under 0.7dB. These systems work with multimode fibers with a core diameter ranging from 50 µm up to 660 µm. Other fiber parameters can be offered upon request.

All switches from piezosystem jena work without any optical components. Hence, there is no dependency on any wavelength. All switches can be used from the UV up to the IR region.
A standard switch configuration comes with one meter fiber length on input and output connectors. Bulkhead connectors are also available. The switch can be controlled easily by RS232, USB, and via ETHERNET interface. A demo version of a controlling software comes with the switch.

If you wish to receive more information about this product please see our optical catalog or send an email to sales@piezojena.com
You have successfully added from to your part list.
---