FOAMGLAS PFS Pool Fire Suppressant
Product Announcement from Pittsburgh Corning (FOAMGLAS® insulation)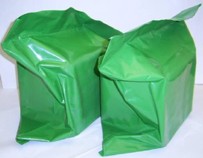 FOAMGLAS® PFS Pool Fire Suppressant is a prepackaged insulation dispersal unit (bag) constructed using multiple pieces of FOAMGLAS® insulation, shrink wrapped and covered in a UV resistant polyethylene bag.
Made of glass without fillers or binders, cellular glass insulation, the core material of the FOAMGLAS® PFS Pool Fire Suppressant, is inorganic and consequently entirely non-flammable. The closed cell structure of cellular glass makes it impermeable to moisture in both liquid and vapor form. This has led to the wide use of cellular glass insulation on piping and equipment requiring fire protection.
Cellular glass also has low coefficients of expansion and thermal conductivity. This unique combination of properties - closed cell structure, inorganic composition and low coefficient of expansion - also renders the material a particularly effective tool for use in LNG pool fire suppression. These properties result in a material that maintains its buoyancy despite extreme temperature conditions. Because it is entirely inorganic, in the event of a pool fire, cellular glass will not burn or produce smoke.
HOW IT WORKS:
When the FOAMGLAS® PFS Pool Fire Suppressant units are in place, during an LNG pool fire the poly ethylene bag and shrink wrap are consumed. This releases the individual pieces of FOAMGLAS® insulation which float on the surface of the liquid. As the pieces of insulation spread over the surface of the LNG, the surface area available to the fire for burning is reduced. Flame height and thermal radiation is reduced as a result. Test results have shown that the presence of 200mm (7.9 in.) of cellular glass on the pool surface can achieve up to 95% reduction in thermal radiation, and facilitates extinguishing the fire using appropriate fire control systems.
---