Higher Flow Capacities with Less Pressure Loss
Product Announcement from Plast-O-Matic Valves, Inc.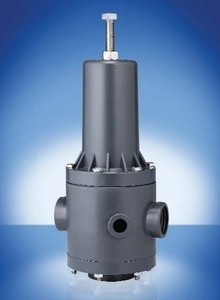 Thermoplastic Pressure Regulators
Permits Downstream Pressure Settings From 5 to 125 PSI
Designed for Higher Flow Capacities with Less System Pressure Loss
Superior Features:
• Converts varying inlet pressure up to 150 PSI, to a stabilized, lower pre-set downstream pressure.
• Protects sensitive downstream instruments, tubing and filters against damage from overpressure/pressure surges; permits the entire system to operate safely and effectively.
• Downstream pressure settings adjustable from 5 to 125 PSI.
• Large surface area of its frictionless rolling diaphragm provides exceptional sensitivity.
• Free movement of the diaphragm on a balanced shaft assures smooth, accurate performance and reliable sealing for millions of cycles.
• Double U-cups prevent leakage along the shaft and eliminates the possibility of "creep".
• Optional gauge ports to assist with setting and monitoring pressure.
• For corrosive and ultra-pure liquid applications.
• Sizes: 3/4" and 1". For other sizes, see Catalogs PRH and PRHM.
Plastic Valves and Controls
Quality Engineered for Corrosive and Ultra-Pure Liquids.
Solving pressure & flow control problems for a variety of applications.
Founded in 1967, Plast-O-Matic Valves strives to continually advance the technology of liquid pressure and flow control. As the quality leader in the development of plastic valves and controls for corrosive and ultra-pure liquids, Plast-O-Matic provides a complete line of standard and custom designed solutions for difficult applications. They are committed to product innovation, engineering excellence, precision manufacturing, 100% quality testing, and hands-on technical assistance.
D.I. (deionized) & reverse-osmosis water
Potable water & wastewater treatment including sodium hypochlorite (bleach), sodium hydroxide, flouride, sewage
Chemical processes including sodium hypochlorite, nitric acid, hydrochloric acid, phosphoric acid, sulfuric acid, solvents, chlorine, hydrogen peroxide, ethylene glycol, seawater, detergents, brine, oil, flouride, ferric chloride, sodium bisulfate, ferric sulfate, calcium chloride
Plastic valves and actuators designed for semiconductor fabrication, pharmaceutical processes, dialysis (sodium bicarbonate), battery filling, chemical injection, metal finishing, food & beverage, printed circuit board fabrication...virtually any demanding liquid process
PRODUCT INFO:
Air Release & Degassing Valves
Check Valves & Vacuum Breakers
Pressure Regulators Pressure Reducing Valves Differential Regulators
Relief Valves By-Pass/ Backpressure/Anti-Siphon Valves
Shut-off Valves Air-Operated & Manual Shut-off & Diverter Valves
Sight Glasses & Level Indicators
Request for Quote
---