Safe Expulsion Of Unwanted Air In Piping Systems
Product Announcement from Plast-O-Matic Valves, Inc.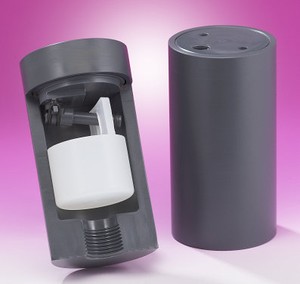 Safety: Allows safe expulsion of unwanted air in piping systems.
Dependability: Patent-pending float mechanism assures minimal emission of system liquid prior to sealing.
Minimal Closing Pressure: Closes at 0 PSI, as long as liquid is present.
Cost Efficient: Designed to improve system performance and competitively priced.
Superior Design: Valve opens and closes automatically, over and over and over.
Corrosion Resistant: Top quality thermoplastics and elastomers resist chemical attack and protect system purity. No metal components in Series DGV.
Series DGV Thermoplastic Degassing Valves...
Continuously Expels Trace Amounts of Gas as it Occurs
FEATURES:

• Reduces replacement costs - no internal or external metal components; ideal for aggressive environments.
• Placed at the high point of a piping system, this innovative valve will vent gas as it occurs. A unique float/actuating lever allows the vent orifice to open when gas is present. After gas vents, liquid forces the vent to close. Whenever gas accumulates, the valve will re-open until the gas is vented.
• All-plastic construction designed for sodium hypochlorite, ozone systems, or any liquids prone to outgassing.
• Series DGV is designed for systems that continuously generate trace amounts of gasses. For system start-up requiring rapid expulsion of larger volume of air or gasses, see Series ARV.
SPECIFICATIONS AND DIMENSIONS:

Body Materials Available: PVC or CPVC
Elastomers: FKM (Viton) or EPDM
Additional Wetted Material: Natural Polypropylene
Maximum Operating Pressure: 100 psi
Minimum Specific Gravity: 0.9
Dimensions: 41/4" high x 2 1/4" diameter
Vent Port: 1/8" NPT
System Connection: 1/2" NPT; valve must be oriented vertically as illustrated above.
Plastic Valves and Controls
Quality Engineered for Corrosive and Ultra-Pure Liquids.
Solving pressure & flow control problems for a variety of applications.
Founded in 1967, Plast-O-Matic Valves strives to continually advance the technology of liquid pressure and flow control. As the quality leader in the development of plastic valves and controls for corrosive and ultra-pure liquids, Plast-O-Matic provides a complete line of standard and custom designed solutions for difficult applications. They are committed to product innovation, engineering excellence, precision manufacturing, 100% quality testing, and hands-on technical assistance.
D.I. (deionized) & reverse-osmosis water
Potable water & wastewater treatment including sodium hypochlorite (bleach), sodium hydroxide, flouride, sewage
Chemical processes including sodium hypochlorite, nitric acid, hydrochloric acid, phosphoric acid, sulfuric acid, solvents, chlorine, hydrogen peroxide, ethylene glycol, seawater, detergents, brine, oil, flouride, ferric chloride, sodium bisulfate, ferric sulfate, calcium chloride
Plastic valves and actuators designed for semiconductor fabrication, pharmaceutical processes, dialysis (sodium bicarbonate), battery filling, chemical injection, metal finishing, food & beverage, printed circuit board fabrication...virtually any demanding liquid process
PRODUCT INFO:
Air Release & Degassing Valves
Check Valves & Vacuum Breakers
Pressure Regulators Pressure Reducing Valves Differential Regulators
Relief Valves By-Pass/ Backpressure/Anti-Siphon Valves
Shut-off Valves Air-Operated & Manual Shut-off & Diverter Valves
Sight Glasses & Level Indicators
You have successfully added from to your part list.
---