Sustainable Polymer Solutions
Product Announcement from Plastics Color Corporation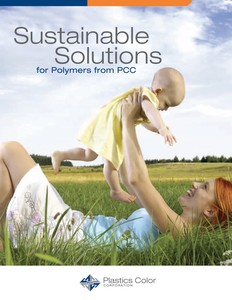 <><><><><><><><><><><><><><><><><><><><><><><>
Visit Plastics Color Corp. (PCC) -- at PLASTEC Midwest
Booth 1757 ----- Sept. 10-12 2013
<><><><><><><><><><><><><><><><><><><><><><><>
Biodegradable products. SoluPur™ with EcoPure® accelerates the biodegradation of traditional, petroleum-based plastic products in a biologically active landfill. When SoluPur with EcoPure is added (at approximately 1% in the finished part) during the manufacturing process, the product will biodegrade when disposed of in microbe-rich environments.
SouPLAs™ line of masterbatch additives and toners for polylactic acid (PLA). SoluPLAs makes this bioplastic polymer, derived from renewable resources such as corn, more useable and more accepted by the marketplace by improving clarity, UV protection qualities and reducing noise.
Recycled Color concentrates are made partially with post-consumer and industrial plastic content, or a more enviromentally-friendly carrier that provide manufacturers with a way to meet recycled plastic material requirements while protecting valuable natural resources.
---