Dry Ice Handling Accessories
Product Announcement from Polar Tech Industries, Inc.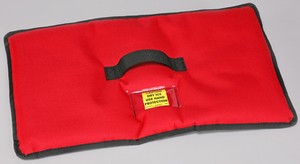 Dry Ice handling accessories from Polar Tech include dry ice pads, stacking wire baskets, aluminum dollies and carry straps.
Dry Ice Pads allow the container and content to maintain temperatures during frequent use. Flexible insulated pad allow easy use of container and maintaining temperatures of contents during use, without excessive sublimation. Insulated dry ice pads come with industrial grade woven poly polypropylene handles and 2" x 2" clear pocket.
Stacking Wire Baskets have a special secure stack feature allows safe stacking and organizing bottles, vials and bags from insulated chest to freezers or work areas. These are constructed of heavy welded steel wire and thick white powder coat.
Heavy-duty Dollies available for some foam insulated storage chests that are lightweight molded EPS foam containers with tight fitting lids.
---