Product Announcement from Portescap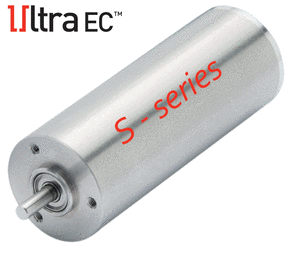 Portescap introduces the 22ECS brushless motor. Designed to deliver exceptional efficiency in high speed applications, the 22ECS runs up to 30 percent cooler than similar motors, at speeds greater than 50K RPM.
"A cornerstone of Portescap's new Ultra EC™ mini motor platform, the 22ECS is optimized to be one of the most advanced and highest performing brushless slotless motors in its class," says Julien Baudey, R&D Specialist. "The 22ECS is constructed with a new enhanced high efficiency magnetic circuit that drastically reduces both iron and recirculation losses which cause motor stator heating at high speeds. The new patent pending motor coil also achieves higher available torque and mechanical power than similar high speed motors in the market, up to 160 watt or 45 mNm of continuous torque."
As a result, this brushless slotless motor stays much cooler and offers greater power density than equivalent models at a given operating point. The 22ECS also uses unique high performance lubrication and ball bearings to extend motor life and maximize performance at high speeds. Due to its high power, efficiency and low rotor inertia, the 22ECS can change speeds and accelerate rapidly. "this high efficiency motor is perfect for applications requiring frequent quick accelerations to a given high motor speed, and its advanced thermal properties are specifically suited for applications in controlled environments where the air around the motor must stay as cool as possible, or when the motor is mounted into a handheld tool," explains Baudey. "The motor's compact size, high power and efficiency allows for applications to be smaller and more mobile."
The superior efficiency of the 22ECS brushless slotless motor not only enables cooler operation at high speeds, but also offers battery capacity and life advantages. The motor's superior efficiency allows battery operated applications to run longer between charging cycles and can reduce the size of the battery needed, allowing mobile devices using the 22ECS to be smaller and lighter.
The 22ECS motor is specifically designed to meet stringent medical market requirements. The 22ECS is best suited for medical ventilation or portable hand-tool applications. This brushless slotless motor can be supplied with a PCB built-in temperature sensor to enable continuous temperature monitoring during peak power operation.
Portescap is globally ISO 9001:2008 certified, and our production site in India is also ISO 13485, ISO14001:2004 and OHSAS 18001:2007 certified.
About Portescap
Portescap is part of the Danaher Corporation. Danaher is a Fortune 200, NYSE-listed, science and technology leader that designs, manufactures and markets innovative products and services to professional, medical, industrial and commercial customers.
Portescap offers miniature motor technologies to solve the motion needs of a spectrum of end markets, from medical devices to various industrial applications, that save, improve and enhance lives. We serve our customers through breadth of innovative product technologies encompassing brushless DC, brush DC, can stack motors, disc magnet motors and stepper linear actuators to optimize application performance.
Our products deliver motion in a compact package with high efficiency and low power consumption. Building upon a tradition of manufacturing excellence, and driven by passion for innovation, we leverage over 70 years of experience in motion solutions to put precise power in the smallest places.
We partner with our customers across the globe in every phase of their product design - from selecting an optimal motion solution to customizing products to meet their application needs. Our global manufacturing footprint and application centers worldwide allow us to respond quickly to customer needs and to provide local support.
You have successfully added from to your part list.
---