Product Announcement from Portescap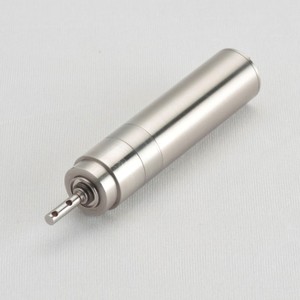 With an outside diameter of 0.5 inch and several stack lengths available, Portescap's Sterilizable size 5 Brushless Slotted Motors are uniquely designed to survive extreme environments such as high temperatures, vibrations, shocks and humidity.
*For increase torque, they can easily be matched with Portescap size 5 sterilizable gearhead.
Key Features
-Sterilizable: life tested to withstand in excess of 1,000 autoclave cycles
-Custom winding on demand
-Speeds up to 90,000 rpm
-Planetary sterilizable gearhead available. Standard ratios: 5:1, 25:1 and 125:1
-24 hour turnaround time for standard prototypes
Advantage of the BLDC Slotted technology
The slotted technology uses a stator that consists of stacked steel lamination with winding placed in the slots that are axially cut along the inner periphery.
The main advantages of the slotted technology are:
- ease of winding customization
- better heat dissipation than other brushless technologies
- ability to withstand high peak torque
- high power density
Perfect for applications such as:
· Medical Hand Tools
- Hand held shaver system for arthroscopic surgeries
- High speed surgical drills for ENT surgeries
About Portescap:
Portescap offers one of the broadest miniature motor product line in the industry, encompassing Brush DC, Brushless DC, Stepper Can Stack, Linear Actuator, Disc Magnet and Hybrid technology. We help your applications excel through innovation and customization. From medical to aerospace or automation to security & access, Portescap's miniature motion solutions are moving life forward worldwide in critical applications.
Portescap's Broad Product Line includes:
· Brush DC
· Encoders
You have successfully added from to your part list.
You need Flash player 8+ and JavaScript enabled to view the Sterilizable size 5 Brushless Slotted Motors video.
Get the Latest Flash player.
---