Industrial Manipulator
Product Announcement from Positech Corporation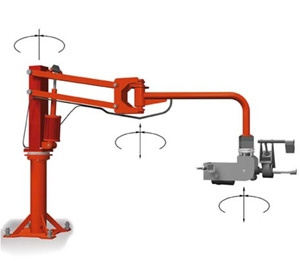 The World Manipulator combines the strength of the Taurus and the agility of the SAM while incorporating universally-accepted metric specifications for easy service and maintenance anywhere in the world. The World Manipulator is designed for low headroom applications that require extended reach and handles loads up to 200 kilograms (440 pounds).
The World Manipulator is a strong, handy extension of the operator's arm. It protects expensive payloads, speeds up handling and can reach long distances in headroom-restricted areas. The device's side-loading feature allows the user to extend the tooling and payload well beyond the end of the arm while rotating 360° around the arm.
For Performance and Quality
· Fits well in areas with low headroom
· End of arm rotating axis has: up to 1130 Newton-meters (10,000 inch pounds) of end of arm moment loading 360° full rotation
· Drag brakes on 3 axes for personalized adjustment
· Lubrication-free cylinders
· Leveling jacks provided for ease of installation and leveling
· Payload and tooling capacity of 100 - 200 kg (220-440 lb.)
· Pneumatic is designed to be operated with clean and dry air
· Precision bearings and thrust washers at joints for smooth motion and long life
Safety Features
· 5:1 design factor minimum on all structural components
· Pilot operated lock valve on lift cylinder and gripper cylinders prevents vertical arm movement and loss of payload if supply pressure is interrupted
· Gripper Safety Circuitry senses the pressure in the cylinder and does not allow the part to be released from tooling unless it is supported
· Lost Load Cylinder is a separate, sealed hydraulic device that protects the operator from any sudden, uncontrolled vertical motion of the manipulator's arms
To learn more visit our website. Call or e mail us at Positech to discuss how we can solve your lifting challenges
You have successfully added from to your part list.
---