Manipulator Arm
Product Announcement from Positech Corporation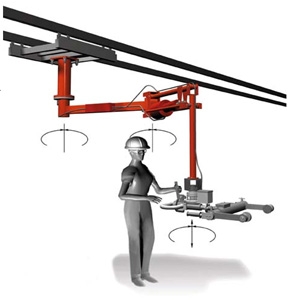 Positech's LodeArm and LodeArm II lightweight manipulators provide excellent maneuverability of payloads up to 225 pounds, increasing employee's capacity to perform physically stressful, repetitive lifting tasks.
Lightweight
Compact
Easily adjustable to fit almost any work cell, Positech's LodeArm and LodeArm II are high-capacity lift systems in very compact packages. These units provide rigid support and reach in capability. The LodeArm 4500 functions in low headroom spaces, with a horizontal lift arm that swings downward 45º. Model 3030's horizontal lift arm travels 30º up and down. The LodeArm II is mounted on an overhead light rail trolley.
For Performance and Quality
· Lightweight and easy to position
· Push-button up/down valve controls lift and lower for ease of operation
· Up and down speed valves for precise load control
· Optional balance controls allow operator to achieve critical load positioning by hand, without activating up/down valve
· 360° rotation at main post
· Radial reach up to 113 inches
· Vertical travel up to 54 inches
· Parallel link available to support loads beyond end of arm
· Pneumatic is designed to be operated with clean dry air
· Precision bearings and thrust washers at joints for smooth motion and long life Safety Features
· 5:1 design factor minimum on all structural components
· Pilot operated lock valve on lift cylinder and gripper cylinders prevents vertical arm movement and loss of payload if supply pressure is interrupted
· Gripper Safety Circuitry senses the pressure in the cylinder and does not allow the part to be released from tooling unless it is supported
· Lost Load Cylinder is a separate, sealed hydraulic device that protects the operator from any sudden, uncontrolled vertical motion of the manipulator's arms
Visit their website to learn how Positech's lifitng solutions can help you
You have successfully added from to your part list.
---