Product Announcement from Powell Electronics, Inc.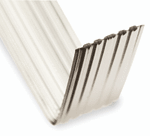 Your system should be built around performance, not around your cables.
The 3M Internal Twin Axial Ribbon Cable SL8800 Series is a new ultra low-profile, high-speed, high signal density cable. The products in the SL8800 Series are only the first of a new family of high-performance cables from 3M.
Currently available in four-channel 100 ohm 30 AWG versions, the SL8800 Series Cable is the optimum solution for space-constrained systems. This cable is unjacketed, extremely thin, very flexible and can even be folded with minimal loss or performance impact. Some high density offerings sacrifice performance to achieve density. For example, flex circuits are often used for tight packaging requirements, but flex circuitry can be cost prohibitive and can have limited bandwidth. SL8800 Series Cable can route along the sides of cabinets and through narrow openings in densely packaged equipment with little to no effect on performance.
Ribbon Construction
Internal cable construction is extremely thin
Lower profile than other similar AWG twin axial cables
Allows for dense routing, providing more routing options within a case
Handle four pairs simultaneously during termination, identical channel lengths, reduced skew
Save time and cost during assembly
Foldable
Allows for extremely tight bend radii
Minimal performance impact from folding, enabling unique packaging configurations
You have successfully added from to your part list.
---