Product Announcement from Powell Electronics, Inc.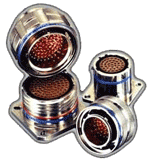 Amphenol D38999 G Class Series III Connectors with Vacuum Degassing
What is Vacuum Degassing?
Degassing (or gas-off) is required of connectors and other components in space applications. As the name implies, the connectors must go through a vacuum outgassing procedure to remove harmful materials, per rigorous NASA or military specifications.
Why is this important in space?
While these construction materials are normal on earth based applications, they can become extremely hazardous in a space vacuum environment. Chemical or organic substances trapped inside materials (plastic, glue, coatings, etc.) could evaporate in the vacuum of space and re-condense on a cooler surface. These surfaces might include optical or electronics components whose performance could be impaired or damaged by this surface condensation.
How is Degassing Accomplished?
Assembled connectors are "baked" at high temperature in a high-vacuum environment to evaporate and extract potentially harmful substances trapped inside the normal construction materials. Powell vacuum oven system can achieve a maximum operating temperature of 300°C (572°F) at 10-6torr vacuum range to meet the needs of any space qualification specification.
Does every connector distributor have this capability?
No. This is a very specialized value-added capability that Powell is pleased to offer its customers.
You have successfully added from to your part list.
---