Metal Detector Repair
Service Detail from Power Control Services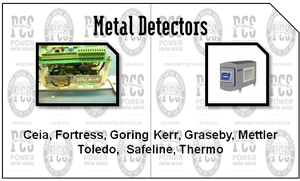 When you call Power Control Services right away at 1-800-962-6355 we'll send you a quote so you can get your unit sent in immediately.
We are the only place on the entire globe that does this!!
Safeline Power Supplies
Safeline Detector Heads
Power Phase
V4 Series V3 Series
V2 Series
SLP30
SLP50
LWT30
LWT50
V3C
V3E
The only way to receive a Lifetime Rebuild is to call 1-800-962-6355 and let PCS make sure you never have to pay for another metal detector failure again.
---