Product Announcement from PowerMate - L P International Inc.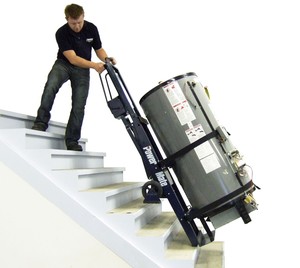 The PowerMate® M-2B machine is a powered, heavy duty stair climber with a capacity to move loads up to 1,500 lbs. The M-2B has eight inches of extra height to accommodate taller loads like commercial hot water tanks, switchgear, built-in appliances, vending machines, visi coolers, safes, man lifts...
___

PowerMate® M-2B Model
Part#: M-2B 400050
___
Description:
The PowerMate® M-2B (8" taller than the M-1) can provide addition leverage and control for consistently taller loads. All PowerMate® M-Series machines are 4 in 1 machines moving some of the heaviest loads, on and off vehicles, over curbs/thresholds/dock leveling, flat surface moving and up and down stairs. All M-Series machines offer a comprehensive line of value-added accessories to make your moves even easier!
Partial list of Industries & Applications typically served with the M-2B:
Plumbing / HVAC - Commercial Water Heaters, Larger Sectional Boilers, Bathtubs…
Utilities - Motors, Pumps, Generators, Batteries, Switchgear, Water and Gas Meters…
Vending - Larger Snack and Beverage Machines, ATM's, Gaming Machines…
Safes - Larger Safes
Appliances - Built-in Appliances
Elevator - Motors, Test Weights, Armatures, Sheaves, Spools of Cable…
Government - Fire-Proof Filing Cabinets, Office Furniture and Supplies, Military Ordnance
Facilities Management - Exercise Equipment, Computer Server Towers, Organs, Pianos…
Home Health Care - Cryogenic Cylinders, Medical Diagnostic Equipment…
___
PowerMate® M-2B Design Highlights:
Exclusive - Solid State Circuitry (no solenoids), further reducing the total cost of ownership and featuring "soft start" for safer and smoother operation.
Carries the load on the larger outer frame to increase stability and minimize frame twisting. Optimally sized hardened steel drive screw and premium steel construction for greater efficiency, durability and strength.
Top of the line, maintenance free battery (4 - 7 year life).
Spring lock safety device in the ball nut and two switch operation with over ride provide additional drive system security and safety.
Unique 3 point break back system for full control, 100% of the time.
Designed to protect stairs and floor surfaces of all kinds with full length bottom rubber guard and non-marking wheels.
___
M-2B Specifications:
Construction: Premium steel frame construction
Motor .65 KW High Efficiency DC Motor
Battery Long-life, 12 volt rechargeable, sealed cell gel electrolyte battery pack
Lifting Height 40"
Wheels Puncture proof, 8" Non-marking wheels
Straps 14' Nylon reinforced cotton strap to safely secure the load in place
Load Rating* 1,500 lbs.
Dimensions (WxDxH) 27"x17"x68"
Weight 165 lbs.
Warranty 1 Year Limited Warranty - Service & Warranty Info 1-800-967-6283
___
Standard M-2B Inclusions:
Comes complete with: solid state circuitry, built in retractable dolly attachment, leverage bar, two adjustable felt protected strap bars, battery and battery charger.
___
M-2B Value-Added Accessories:
In Vehicle "smart" Charging Systems, Big Wheel Attachment with Pneumatic Wheels Additional Strapbar,Wheel Brakes, Cylinder Attachment, Extended Toe Plate (with or depth), Step Extension & Pivot Pad, Hot Water Tank Attachment, Hook Box, Skid Plate, Face Plate, Horizontal Support Brackets, Load Elevator, Side Handle Kit, TwinLift Attachment and Customized Strap Lengths available.
___
Optional L P International Inc. Services:
For all your PowerMate® training and service needs including, On-site Operator Training options Contact: PowerMate® 1-800-967-6283
URL: www.PowerMate.info
* Please refer to load moving Profile for further details.
To keep current on what's new at PowerMate® follow us on: Twitter, Facebook and LinkedIn.
You have successfully added from to your part list.

Play PowerMate® Stair Climbers are 4 Machines in 1 ! Video
---