Product Announcement from Power Technology, Inc.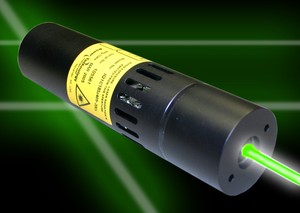 The new Instrument Quality
(IQ) Series for green wavelengths
uses a Green Diode Laser instead
of a traditional Diode Pumped Solid
State(DPSS) configuration. This
inherently makes the laser have low
noise characteristics compared to
DPSS lasers. The laser module has
been created specifically to address
the needs of high-end OEM applications
requiring superior optical quality
and ultra-stable wavelength and
output powers. By bringing together
an ultra stable 515nm laser diode and
our advanced IQ package, we have
produced a highly stable module with
extremely low noise.
At 515nm, this unit is ideally suited
to replace bulky and ineffecient Argon
Ion Lasers at 514nm. ArIon lasers
consume as much as 1800 Watts of
electricities. By comparison, the IQ
consumes 18 Watts.
To promote stability of wavelength
and output, our IQ modules have always
incorporated a precision current
source and PID temperature control
loop. The new, improved IQ provides
even more stability via several optical
and mechanical improvements.
In fact, this IQ can now operate at a
much wider temperature range. The
low operating voltage helps to create
less waste heat within the laser module,
thereby increasing diode lifetime,
efficiency, and reliability. Our IQ laser module is available in
wavelengths ranging from 375nm
to 2330nm. The unit can be operated
in CW mode, or have modulation
via TTL or analog signal.
The IQ1C produces an elliptical
beam while the IQ2C produces a
circularized beam.
You have successfully added from to your part list.
---