3-Phase AC to DC Power Supplies
Product Announcement from Powertronix Corp.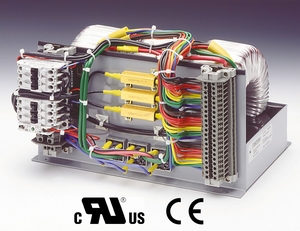 POWERTRONIX 3-Phase AC/DC Power Supply is a linear power supply converting AC line voltage to DC power. It offers extremely safe and reliable DC power for installations requiring a DC bus system. This unit consists of a POWERTRONIX 3-Phase Toroidal Transformers connected to a six-diode bridge rectifier, which supports a common DC bus.
The POWERTRONIX 3-phase AC/DC Power Supply is available in Delta-Delta, Delta-Wye, Wye-Wye, and Wye-Delta configurations. Standard units are available with several mounting options and with power ratings from 3 KVA to 30 kVA.
SPECIFICATIONS
• Power Ratings: 3 kVA to 30 kVA
• Input: 200/208/380/400/480 Volt
• Output: Customer specified
• Frequency: 50/60 Hz
• Efficiency: 94% or better
SAFETY APPROVALS:
• UL/cUL approved to UL 506, UL 544, UL 2601
• Built to EN 60601, EN 60950, EN 60742
• CE Marking
---